Code: Herbal-Detox-0014
Availability: In Stock
The purpose of the Coffee Enema is to cleanse and fortify the liver in its job as a blood detox agent.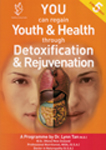 Included in this pack is a FREE Book titled - You Can Regain Youth & Health Through Detoxification & Rejuvenation. A time tested programme by Dr. Lynn Tan, Naturopath (N.D)
This Basic Coffee Enema Pack consists of :-
A BPA Free Reusable (Medical Grade) Enema Bucket (1,500ml capacity) with reinforced carrying handles for hanging on Hook; a Soft Vinyl tube; An Open/Close Clamp on Tube for One-Handed Operation when administering Coffee Enema. $28.10
2 Packets (250g each) grounded Organic Enema Coffee (loose). - $30.30
Extra Virgin Coconut Spray (is used as a lubricant as it contains anti-viral & anti-bacteria properties). Important Note - Many people who have used petroleum based lubricant and cooking oil have complained of anal itch after a period of time. We strongly recommend and advocate the use of Cold Pressed Extra Virgin Coconut Oil. $16.20
A bottle of 100g K-Salt (a combination Potassium Gluconate, Potassium Acetate, Mono-Potassium Phosphate) to prevent electrolyte imbalance. A quarter teaspoon to be added to juices after every coffee enema for best results. It can be taken as an essential daily supplement for improving general health and vitality. For more information http://www.naturalhealthranger.com.sg/KSalt-USA $39.10

Hydrogen Peroxide (3% concentration) for disinfecting the enema bucket & enema tube to prevent bacteria and molds from forming. A very important procedure after every enema. For more information http://www.naturalhealthranger.com.sg/Hydrogen-Peroxide-3 - $12.80
Free telephone Coaching on the practical aspect of Coffee Enema. For more information on Coffee Enema http://www.naturalhealthranger.com.sg/Health-Content/Health-info-Coffee-Enema
Disclaimer: The contents on this page are not to be substituted for medical advice or diagnosis. The information presented here is purely for educational purpose. This is not a prescription for self-diagnosis or self-medication. Consult your own physician regarding the application of any opinions and recommendations with respect to your symptoms or medical conditions.
---