Code: Appliances-Equipment-0001
Availability: In Stock
"Produces better tasting juices than other juicers. The juices are not oxidized and they contain higher values of vitamins, minerals, phytonutrients." 



The Versatile ALPHA JUICER (DA-900) / 9 functions in 1 machine
Juice your way to optimal health! Hippocrates, the father of modern medicine, once said, treat food as your medicine and medicine, your food.
You can now do that easily with the NewLife™ Alpha Juicer! This powerful yet quiet low-speed juicer takes all the goodness from fruits and vegetables to give you a drink that will strengthen your body, improve your immunity and keep you healthy all year long.
The versatile machine also does a host of other great things.
The NewLife™ Alpha Juicer is perhaps your best health investment. You and your family will get to reap the bountiful health benefits that come from this powerful machine.
A whole glass of benefits awaits you - Your key to radiant health! Fruits & Vegetables

Fruits & Vegetable Juice Extractor


The low-speed screw prevents the destruction of flavours and high nutritional contents. It is suitable for all kinds of fruits and vegetables.
Wheat Grass/Leafy Green Juice Extractor



ALPHA DA-900 can extract up to 99% of juice from wheat grass, pine needles, aloe vera, nappier grass, parsley, pandan, and others
Soya Bean, Almond & Other Nut Milk Extractor



You can now prepare homemade soya bean milk, almond, coconut milk, and other nut milk with ease.
Mincer / Chopper



ALPHA DA-900 can chop and mince seasonings and herbs such as garlic, scallions, onions, red peppers, ginger, radishes, basil, chillies, and etc. It also makes mincing beef, chicken, mutton, and fish easy for everybody.
Ice Shaver / Vegetable Slicer (optional attachment)



ALPHA DA-900 can assist you in preparing many ;ocal delicacies, such as ice kacang, cendol, sago, and others, You can transform the ice shaver attachment to a slicing mode. It slices any form of hard fruits ot vegetables to the size of pickles in a split second.
Pasta Maker



ALPHA DA-900 can be used to make rice sticks, pasta, noodles, and etc.
Food Mill



ALPHA DA-900 cab be used to make cookies, fish balls, meat balls, and etc. Also greta for making baby food.
Grain Mill



With the Two-Tiered mincing strain, ALPHA DA-900 grnds grains into smooth flour.
Grinder



ALPHA DA-900 can grind all kinds of nuts for various delicious recipes, inclusive of peanut butter, tahini (sesame seeds butter), and cashew nut butter, which are all-time family favourites.
21 Reasons to get a ALPHA DA-900 JUICER, Your Complete Kitchen Help
Manufactured in Korea. Awarded a GOLD MEDAL at the 32nd Geneva   Invention & Patent Products Exhibition 2004. CE & TUV approved,

Fully endorsed by the TUV Rheinland Product Board in Germany

Retains the natural flavours and over 90% of the nutritional value in fruits and vegetables
High yield – extracts up to 99% of juice from any fruit or vegetable
Locks in natural flavours and nutritional value with its low-speed technology (80rpm)
Low speed also means low temperature which in turn preserves nutrients. Also, juices stay fresh for a longer time without oxidation
Reduces the level of pesticides, chemicals, and heavy metals in the juice
Extended warranty on components A 20 year warranty on motor and a five-year warranty on selected components. Excellent After-sales service and spare parts provided by NewLife™
Built-in safety device - automatic temperature breaker to prevent overheating
Easy to use and clean - disassemble, clean and reassemble in minutes.
The first juice extractor with the unique stone-mill like screw
Made from US FDA approved polycarbonate and melamine - extremely hygienic and durable
Produces less bubbles and foam compared to other double gear-type juicers
Suitable for commercial use
Bio-ceramic-treated bowl preserves flavour, enzymes and nutrition.
Effectively eliminates agricultural waste and chemicals from the juice as these are kept in the juicing waste
Makes excellent juice especially with highly fibrous foods
Makes excellent soya bean drinks, coconut milk extracts and desserts
Very quiet
Prevents nutrient damage in juice caused by high temperatures and the impact of a normal juicer
High quality, nutrient rich juice for the whole family.

A BONUS Video CD awaits you...... 
when you buy the ALPHA DA-900, showing you a variety of exciting nutritious recipes, and triggering your culinary
creativities:-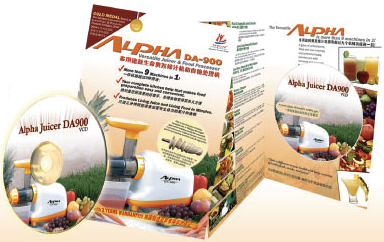 Juicing wheat grass, pineapples
Extracting almond milk
Makes delicious chicken rice chilli sauce, frozen ice-cream or yogurt sorbet
Prepares nutritious baby food, healthy peanut butter
Grinding brown rice, black pepper corns, dried chillies
Making healthy pasta & noodles
Shaving ice for local desserts
Slicing carrots, onions, etc. 
"Make a difference to your health with large varieties of healthy foods, snacks and juices"
---